Introduction
In the summer of 2013, I was the director of the DreamYard Art Center in the Bronx. DreamYard is a multi-disciplinary organization serving young people in pre-K through 12th grade that uses art as a tool for social justice. This program trains teaching artists not only to teach their art form, but also to help young people think critically about the world with an eye toward building something new.
Liberatory education.
In this piece, I chronicle a half-day experience developed by loving, creative, innovative teaching artists who, in the wake of the George Zimmerman verdict, were prepared to practice what we preach when we say that art is powerful.
---
We could have gone on. Class as usual. Address it? How? I seethed in my own rage. My heart hurt. I wanted to run. To move. To take my husband and baby boy and flee the country that clearly despises Blackness. I had watched a jury decide that a child could be hunted and killed. Killing a Black person was legal and without consequence. Black people hold the burden of proof—we had to prove we had a right to live.
I wanted the world to stop.
The Monday after the George Zimmerman verdict we were in the middle of our month-long summer intensive. Three nights earlier, a jury had found Zimmerman not guilty of killing 17-year-old Trayvon Martin. Trayvon was killed by Zimmerman while walking home from a 7-Eleven in his father's fiancée's gated Florida neighborhood when he was spotted by Zimmerman, a member of the neighborhood watch. Zimmerman called a police dispatcher, reporting that Martin "looked suspicious" and that "They always get away." After being told by the dispatcher not to pursue Martin, Zimmerman took his gun and approached Martin. Moments later, Trayvon Martin was dead. Zimmerman was taken into police custody shortly after, questioned for five hours, and released. A national outcry ensued via social media, online petitions, and protests pressuring the authorities to make an arrest. The arrest came six weeks later. Zimmerman's trial began on June 10, 2013, in Sanford, Florida. On July 13, a jury acquitted Zimmerman of the charges of second-degree murder and manslaughter.
That following Monday morning, I sat down with Ama Codjoe, then associate director of professional development and lead teacher of the ACTION Project, our four-year art and activism program for high school-aged participants. We both knew that we had to do something in response to the verdict. The plan had to change. We both knew that things couldn't just go on. Our participants needed space to begin to heal. We needed a space to heal. We agreed Ama would create a plan with her co-teachers Austin Greene and Marissa Metelica to provide a safe, loving space for our young people to: 1) share their feelings about the verdict, 2) provide historical context to Trayvon's murder, and 3) demonstrate how art can be used to understand, analyze, reflect, and heal.
Too often our young people are expected to sit in silence in their classrooms while there is a whirlwind going on around them. Our schools are particularly afraid of Black and brown anger. It is seen as unproductive. Some teachers are afraid of anger. But they are doing much more harm by not acknowledging the tragic events the students know so well. Audre Lorde famously wrote, "your silence will not protect you," and that is just as true in our classrooms. When we are silent to these injustices, we deem them as not being worthy of comment. Meaning "your pain/anger/fear/confusion is not important." We say, "you are not worthy." "Your deaths do not matter." "Your life doesn't matter." Silence is a sign of compliance.
It was important for us to counter silence by giving our participants the opportunity to voice their pain. We wanted to create the space where their anger and sadness could be held. This was not going to be any other day, this was exceptional; this was a tragic loss, and we will not get used to it. We will mourn it. We will try to heal, but we will also resist. We will use our art and creativity to breathe life into death. Trayvon will not die in vain. Our education space must also be a space of healing.
Design of the Day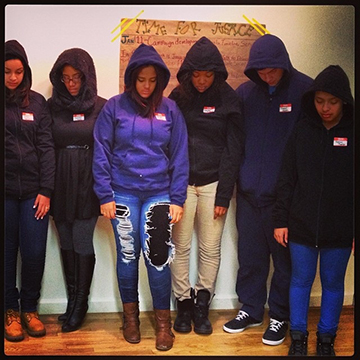 We started the day in the theatre with our chairs formed in a circle. There was heaviness in the room. Looking into the students' eyes, I saw Trayvon. He could have been sitting in this circle. He was one of ours. The thought created a pit in my stomach.
The teaching artists began the conversation by just asking students to share how they felt about the verdict. We call this "temperature taking." At first it was quiet as some of the young people averted their eyes to the ground. Finally we began to hear low murmurs of: "mad," "angry,""sad," "confused. . . ." The chorus of emotions filled the room. "How can he just get away with killing a child?!" Heads nodded in agreement. The teaching artists explained that they would be spending half the day discussing and reflecting on the verdict.
Visual art, poetry, and music served as the vehicles to help us comprehend, feel, and heal. The students were divided into three groups: One group would begin at a visual art installation, another group would begin explicating a poem, and the final group would analyze a song. Every student would have the opportunity to visit each group.
Visual Art
Facilitated by Austin, this lesson was about the history of police/vigilante violence against Black men. On the wall of our theatre space, he created a timeline of Black men who were victims of gun violence. It placed Trayvon's death in a continuum of violence against Black men in America. The participants walked around and took in the images and captions on the timeline. The visual was jarring as the faces of dozens of Black men and boys stared out. Some smiling. Others holding their children. The participants read the stories of each man and child, beginning with Malcolm X and ending with Trayvon. The timeline highlighted that violence against Black men and boys is a systemic issue beyond the death of one person. There were blank spaces on the timeline as well. Austin explained that those spaces were for participants to add names of people they knew who had died due to gun violence. As Austin put it, "The act of memorializing can be revolutionary within itself." It also gave students the opportunity to acknowledge their own losses while connecting those losses to a larger societal issue. At the end of the experience, the participants were asked to create personal pledges of what they would do to resist and end this cycle of violence.
Poetry
Ama led a poetry workshop. She used a poem by Aracelis Girmay, a former DreamYard teaching artist and award-winning poet. Ama selected Aracelis' piece "Night, for Henry Dumas" for our young people to explicate. Henry Dumas was an African-American writer of poetry and fiction during the Black Arts Movement whose work is known for its use of the supernatural, music, and revolutionary politics. Dumas was shot and killed by a white police officer in a subway station in Harlem in 1968. In the poem, Girmay writes:
Night, for Henry Dumas
By Aracelis Girmay

Henry Dumas, 1934-1968,
did not die by a spaceship
or flying saucer or outer space at all
but was shot down, at 33,
by a New York City Transit policeman,
will be shot down, May 23rd,
coming home, in just 6 days,
by a New York City Transit policeman
in the subway station singing & thinking of a poem,
what he's about to eat, will be, was, is right now
shot down,
happening yesterday, happened tomorrow,
will happen now
under the ground & above the ground
at Lenox & 125th in Harlem, Tennessee,
Memphis, New York, Watts, Queens.
1157 Wheeler Avenue, San Quentin, above which
sky swings down a giant rope, says
Climb me into heaven, or follow me home,
& Henry
& Amadou
& Malcolm
& King,
& the night hangs over the men & their faces,
& the night grows thick above the streets,
I swear it is more blue, more black, tonight
with the men going up there.
Bring the children out
to see who their uncles are.
Ama asked the participants what they thought Aracelis was communicating in the poem. Two sections seemed to resonate the most with the young people. The first was "happening yesterday, happened tomorrow, will happen now." The second was the list of men in history who had been killed by gun violence: "Henry, Amadou, Malcolm, and King." These passages highlighted the cycle of violence that has plagued Black people through history, as well as the unfortunate certainty that we have not yet seen the end of it.
Music
At the third station, facilitated by Marissa, participants listened to a song by Lauryn Hill entitled "Rebel." The song was inspired by Amadou Diallo, who was shot 41 times by the NYPD after his wallet was mistaken for a gun. In the song, Hill's only accompaniment is her acoustic guitar, and the sound of her voice cuts through space straight to the soul. The song begins, "I find it hard to say, that everything will be alright . . . you think our lives are cheap, and easy to be wasted. As history repeats, so foul you can taste it." She sings the word "rebel" over and over again to the point where her voice becomes hoarse. Here, our participants witnessed an artist spilling her pain and passion into her craft. Marissa asked the students what they thought Lauryn meant by "rebel." Some said, "Fight back." They were asked to "go deeper." Marissa asked, "What are the various ways we can fight back?" The participants began to pepper the room with strategies: "protest," "boycott," "write your politician," "make art," "talk about it." Participants discovered that rebellion can come in many forms. That Lauryn's song, her art, was a rebellion. How could their art be a rebellion?
---
At the end of the experience we all returned to the theatre to reflect as a group. The energy had changed from the morning. There is a connectedness that comes when you have a shared experience. Looking around the room, I could see that some of the participants had been emotional in their small groups. Some of them talked about the timeline and what it felt like to put the names of their loved ones on the wall. Some wondered if the violence would ever end. One of our young men broke down in tears, "I'm scared. I'm scared that I don't want to be next!" We hugged and let him know that he was loved. Some participants shared their pledges of how would they use their art to make change. Finally, when it was time to circle up and close, one of the participants exclaimed, "Can we do the Assata chant?!!"
Assata Shakur is a freedom fighter, currently in exile in Cuba, who was a leader in both the Black Panther Party and the Black Liberation Movement. Ama introduced her chant into our practice several years ago. It is a call and response that is repeated three times, growing louder each time. It was a beautiful moment to witness. We had begun the day filled with sorrow, fear, and anger. And we ended our day being led by a young person who symbolized our resolve through this chant. He began:
It is our duty to fight!
(It is our duty to fight!)
It is our duty to win!
(It is our duty to win!)
We must love and protect each other!
(We must love and protect each other!)
We have nothing to lose, but our chains!
(We have nothing to lose, but our chains!)
We cheered and embraced. Today, we had won the fight against hate and dehumanization. We stopped the world for a moment to interrupt injustice and heal our hearts. We had transformed the space through love, solidarity, and art.
Epilogue
This work takes a commitment and, in some cases, a rethinking of the purpose of education to focus on helping young people develop the skills to name and critically analyze the oppressive and liberating forces in the world and to give them tools to make positive social change. That purpose permeates everything that is taught and lives in every subject matter. It requires intensive and thoughtful professional development, but there are small ways to begin. I suggest starting with reading a piece by author, educator Linda Christensen, "Creating Classrooms of Equity and Social Justice." I have also included the DreamYard Art Center's framework, consisting of essential questions that guide lesson planning and curriculum design, along with a suggested reading list.
Framework and suggested reading list.
Robyne Walker Murphy is the director of membership development and engagement at the National Guild for Community Arts Education.  Prior to the Guild, she served as the director of the DreamYard Art Center in the South Bronx for seven years. During that time, she helped lead the organization through the development of arts and social justice programming and community engagement initiatives.  Under her direction, DreamYard Art Center was recognized by the White House as one of the top 12 out-of-school programs in the nation. Robyne accepted the award from First Lady Michelle Obama at a White House ceremony. Robyne is the founder and host of the monthly twitter chat series Unapologetically Flyy: Conversations on Love, Culture and Movement Building (#flyychat).