Many writers celebrate National Poetry Month by writing a new poem each day. This April, celebrate with your students in this popular and widespread writing challenge and create 30 poems in 30 days! Use this as an opportunity to explore different poetic forms and prompts, letting you and your students release the "inner-editor" voice and allow your poetic creativity to flow throughout the month.
30 Poetry Lessons for 30 Days of Poetry
Additional Resources:
For more Writing Our Way Through poetry lessons for writing at home, visit #WOWT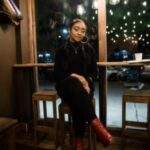 Amanda Volel is a poet and educator from Queens, New York. She has an MFA in Creative Writing from Sarah Lawrence College. She joined T&W in December 2018 as a teaching artist and currently works as a communications & development associate.